Welcome to the Lake Braddock Band website!
Join a Band Facebook Group or follow us on Instagram and Twitter:
Spiritwear Shop is OPEN!
LB Band Online Spirit Wear Shop Is Now OPEN!
Boost your band student's spirits with LB Band gear AND support the band program!!
Accepting orders now through Monday, August 22!
· Two Shipping Options – Direct Ship & Free Pick-up from our spirit wear coordinator (details to come)
· All orders will be delivered 10-15 business days after shop closes.
· Proceeds from the sales support the band program!!
· Questions? Please comment below or email vp.lbbandboosters@gmail.com
Click here for a link to the Spiritwear Shop!
Band Camp Spirit Days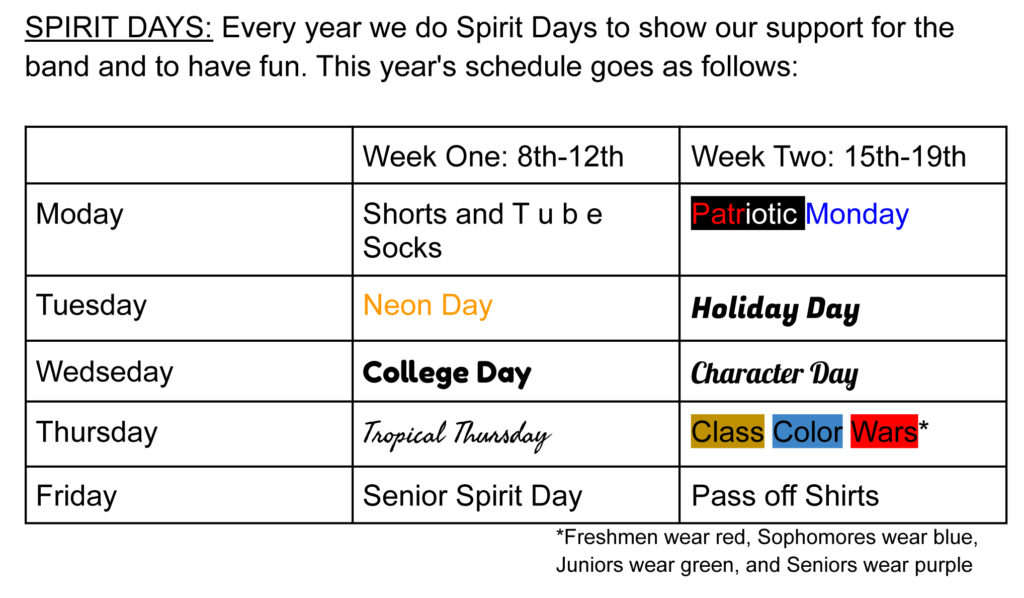 2022 Marching Band Season
Marching Bruins
The history of the Lake Braddock Band is one of continued excellence reflecting the dedication of hard-working students, parents, and faculty. Lake Braddock is the only school in the Commonwealth of Virginia to be designated a Virginia Honor Band for 39 consecutive years and 40 superiors in marching assessment!
See the list of honors and awards the Lake Braddock Band has received over the last few years.
Your membership supports many band needs, and your volunteerism keeps our wonderful program running smoothly. Come to a meeting and join the fun!