Welcome to the Lake Braddock Band website!
Join a Band Facebook Group or follow us on Instagram and Twitter:
HOLIDAY CITRUS SALE
Click here to order Holiday Citrus:
CHILDREN'S HOLIDAY CONCERT & OPEN HOUSE
The Lake Braddock Band Program invites you to a special Holiday Concert and Open House designed for children and young band students! Join the Bruin Symphonic Band as they play some festive holiday tunes, see the Marching Bruins 2022 Halftime Show, and listen to various small instrumental ensembles including the Lake Braddock Jazz Band. Children can explore the "Bandiland" trail through the Music Department wing, collect treats and stickers in the various stops, and learn more about instrumental music programs along the way. Treats will end your tour!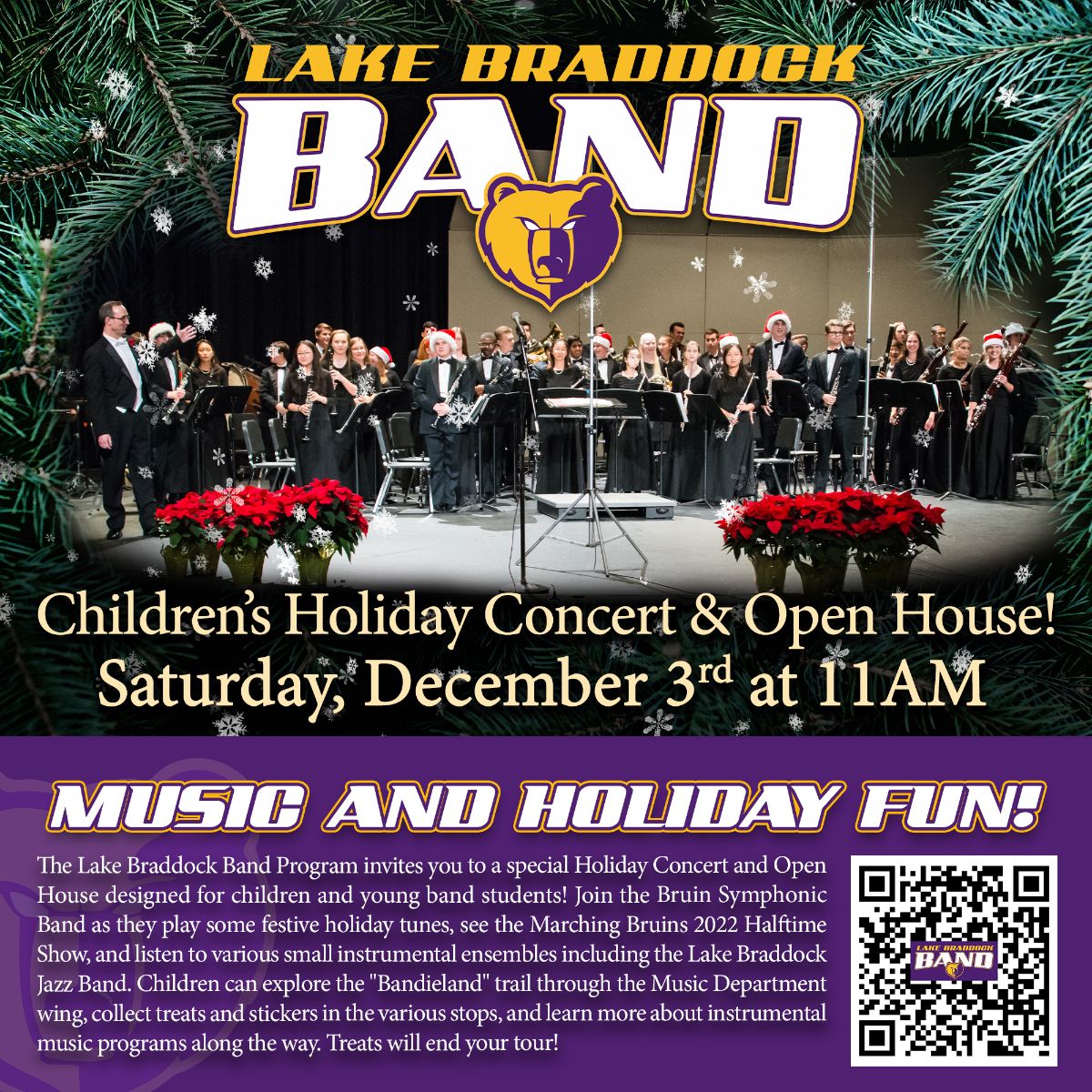 SUPPORT THE BAND –
ORDER YOUR WHITE HOUSE ORNAMENT TODAY!
Members of the Lake Braddock Band are proud to offer the official 2022 White House Christmas Ornament! Available for a short time, this collectible from the White House Historical Association is just $23. All funds go directly to the band, and kids earn points for each ornament sold!
Sign up to volunteer at a White House ornament sale table! We will be selling ornaments outside Spartan's Restaurant and the Giant in Huntsman Square for three weekends. Your volunteer hours and sales earn you letter points! Adult volunteers needed, too!
Click here to volunteer for White House Ornaments Booth Sales (Parents & Students)
Email ornaments.lbbandboosters@gmail.com for details!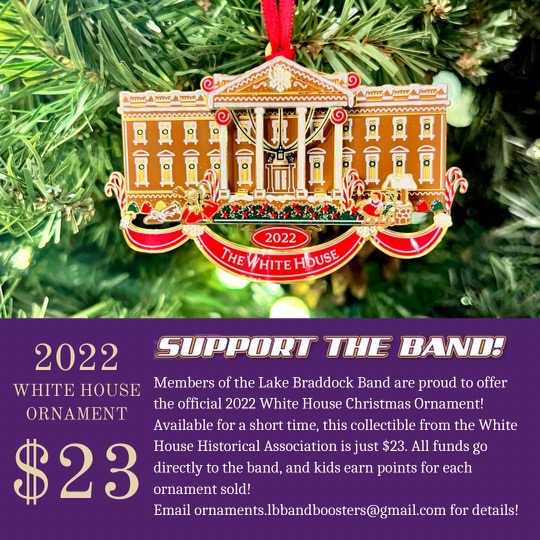 Marching Bruins
The history of the Lake Braddock Band is one of continued excellence reflecting the dedication of hard-working students, parents, and faculty. Lake Braddock is the only school in the Commonwealth of Virginia to be designated a Virginia Honor Band for 39 consecutive years and 41 superiors in marching assessment!
See the list of honors and awards the Lake Braddock Band has received over the last few years.
Your membership supports many band needs, and your volunteerism keeps our wonderful program running smoothly. Come to a meeting and join the fun!