Welcome to the Lake Braddock Band website!
Join a Band Facebook Group or follow us on Instagram and Twitter:
2023 Marching Band Calendar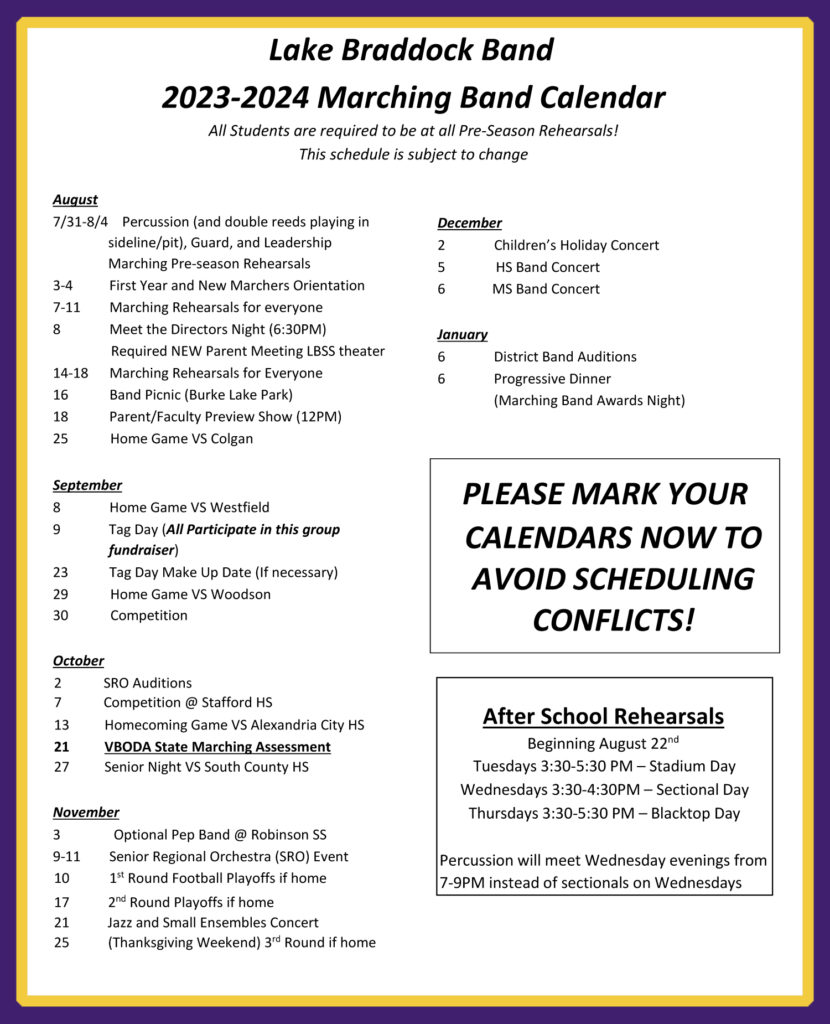 LB Band Alumni Event Signup
LBSS Band Alumni 50th Anniversary Open House
Please come celebrate Lake Braddock Secondary School's 50th Anniversary at the Homecoming Football Game on Friday, October 13, 2023! Band alumni and their families are invited to visit the school and take a tour of the band area to reminisce about the marching band experience. Alumni are also welcome to enjoy "Bite of Braddock", which is a selection of food trucks available for purchase in the Lake Braddock parking area.
Band alumni are welcome to participate in warm up circle, march up with the band, and play the Lake Braddock Bruin Fight Song! (Music provided upon request.) Alumni are also invited to join a company front at the end of their marching band performance which will be held after the end of the football game.
A complimentary 50th anniversary T-shirt will be provided to each registered band alumni member!
**Please complete the google form to allow us to plan and communicate with you for what will be an amazing and fun event!**
Event Address: Lake Braddock Secondary School, 9200 Burke Lake Road, Burke, VA 22015
Event Details
October 13, 2023
Check in from 4 to 6pm at Door 14.
For more information and to sign up click here.
Marching Bruins
The history of the Lake Braddock Band is one of continued excellence reflecting the dedication of hard-working students, parents, and faculty. Lake Braddock is the only school in the Commonwealth of Virginia to be designated a Virginia Honor Band for 40 consecutive years and 41 superiors in marching assessment!
See the list of honors and awards the Lake Braddock Band has received over the last few years.
Your membership supports many band needs, and your volunteerism keeps our wonderful program running smoothly. Come to a meeting and join the fun!